It's time for the softball league finals!
Yes, already. We couldn't believe it either. But if you're thinking 12 months can't possibly have passed because you'd be a year older which is obviously nonsense, we have great news: they haven't! Well, not quite.
This year's London Charity Softball League grand finals hit Hyde Park a week earlier than usual, on Thursday 16th August, making it a mere 11 months and three weeks. So we're all still hurtling towards our own demise at a frankly terrifying speed, but at least it's fractionally less terrifying than you might have thought at first. Hurray.
But we're even more delighted to see the third sector's legendary league going from strength to strength in its 16th year (and our 12th as lead sponsors), getting bigger and better than ever, and bringing together well over 120 charities from all corners of the sector in fierce-but-friendly competition.
We'd love to claim credit, but in reality it's all down to the energy and exceptional efficiency of the league's organisers (more of whom in due course) and the sheer enthusiasm and commitment of the teams who've bravely battled through months of relentless sunshine and socialising to make it this far.
Not forgetting our brilliant fellow sponsors Bluestep, RNB Group and joining the party this year, Brightspot Fundraising - who'll all be helping to make sure Thursday's finals are a day to remember, even if it's a little groggily, some time the following afternoon.
So with no further ado, let's meet the teams who'll be tussling for one of the three top titles: the Harris Hill Plate, the Bluestep Shield, and the Harris Hill Cup!
​

First up it's Saints vs Sluggers, better known to the wider world as St Mungo's and Sustrans!
Both teams are first-time finalists who'll be battling to blag the nearly-priceless Harris Hill Plate: we asked Sustrans' team captain Cliff Matsuya, and what transpired to be almost half the St Mungo's team, about their success in the season so far...
​
---
​
Paul Nanson, Katie Wimpenny, Matt Taylor and Emmeline Wilcox, The Saints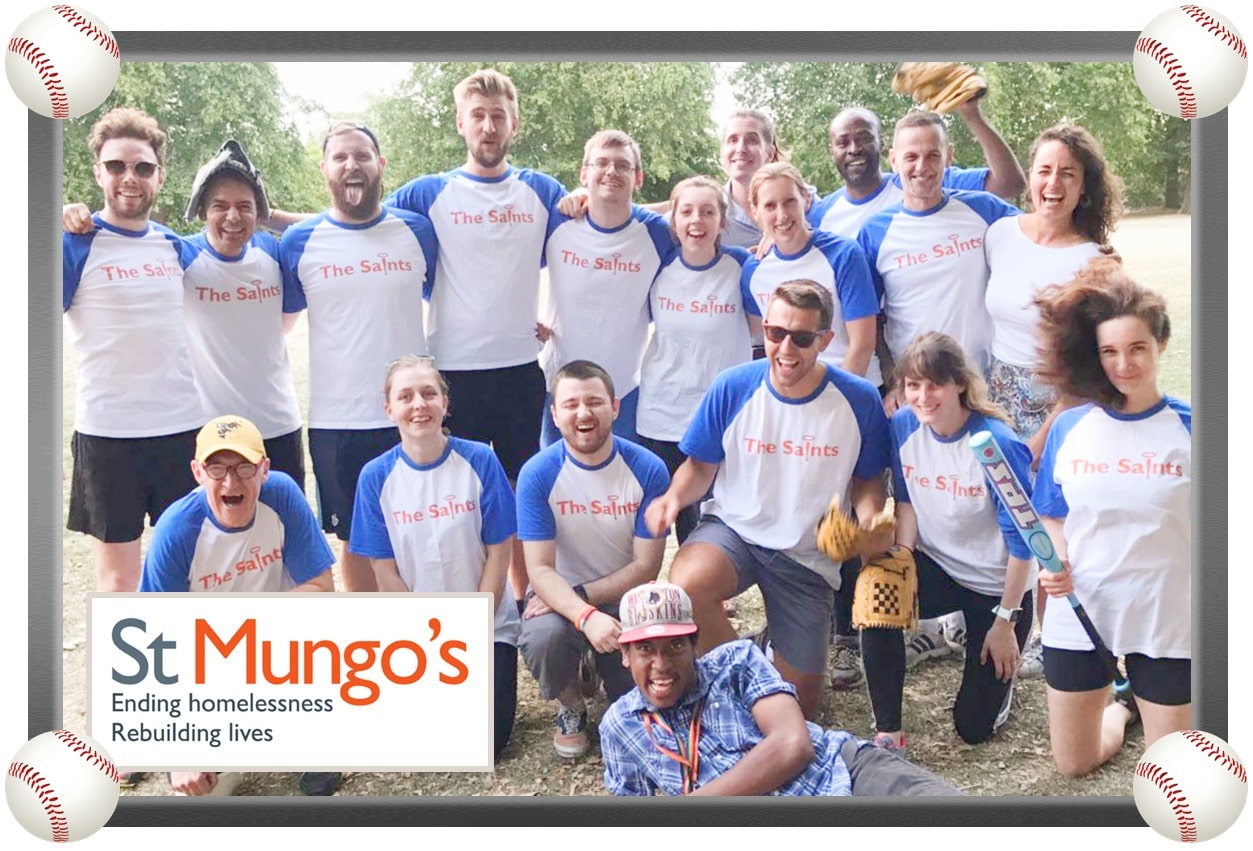 Tell us about the team?
We're The Saints, made up of staff and clients from St Mungo's, where we work to prevent homelessness and support people's recovery to stay off the streets for good. We're an inclusive and diverse team and that's what makes us click. We have staff based all over London, so it's a great chance for people to meet others in the organisation they wouldn't usually meet up with.
How long have you been involved in the league?
The Saints were reincarnated four years ago by Emily Whittaker: if it wasn't for Emily and her extremely loud grunting, we wouldn't be here today. It took us a while to get the knack of throwing and catching, taking us three years to win a game. Since then we've been absolutely flying though, making the Cup knockouts last year and through to the Plate final this year.
What's the best thing about being part of it?
The chance to do a bit of throwing and catching with a beer in the English sun. The best games are the ones where both teams play with a great spirit and don't let the competitive edge get the better of them.
Best/funniest/most memorable moments of the season?
Best: the team togetherness and the way everyone supports each other no matter what.
Funniest moments have got to include Kevin admiring his hit before realising he has to run and falling over at first base, Kerri hitting herself in the face, and seeing our MVP jacket evolve over time! With the zebra print jacket being at the heart of the outfit, each MVP adds something different for the next week. The outfit now has a strong animal print theme, some great gold trousers and funky sunglasses. Each MVP has to travel home in it and takes a picture for proof!
Who've been the friendliest team you've played this year?
Comic Relief, St Joseph's, FareShare, Rethink - they're all 100% absolute babes.
And the toughest opponents?
Rethink - we drew 12-all and they were great in the field, with some absolute huuuge hitters. They came top of the league and 100% deserved it.
Any mascots or MVPs to mention?
Jordan, who is a St Mungo's client, is our official cheerleader. He comes along to every game, music playing from his phone. He even made a special semi-final playlist. Hold tight for his final one. He's also won MVP twice without even playing. Absolute bloody legend.
MVP = the whole team. Everyone contributes to each game, we wouldn't be in the final without each person that's played.
So what's the secret of your success?
Having fun, playing with a smile on our faces and not taking ourselves too seriously.
Also, doodle polls and saying Saints very, very loudly.
And how are you feeling about your chances on Thursday?
To have got this far is unbelievable. Our aim for Thursday is enjoy it as much as possible. If you can't enjoy the game, there's no point in playing. There'll be some nerves, there'll be some dodgy team talks and there'll definitely be a few drinks afterwards. Good luck to Sustrans, we hope it's a great match!
​
---
'King' Cliff 'Batsuya', Sustrans Sluggers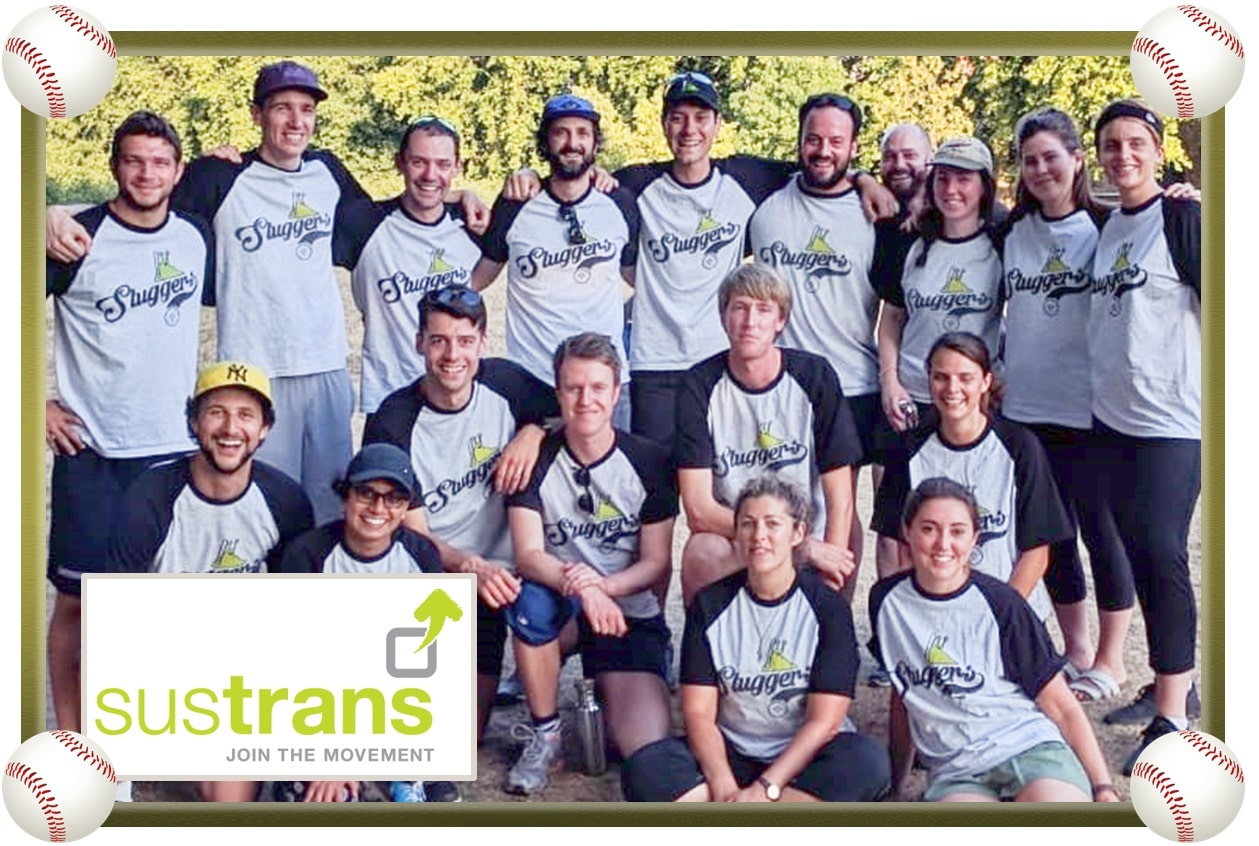 How long have you been involved in the league?
The Sustrans Sluggers (affectionately known as the Slugs), formed in 2016 - since then Slug Spirit has swept the office, and match days will usually see a sea of slugs behind each desk.
The Sluggers are usually fairly easy to spot on the field, as we're the ones with a horde of bikes parked up by our game. We've also been known to spend (far) more money on Sluggers branded clothing and accessories, and resorting to cable tying our cheap gloves together before each game.
Friendliest team you've played?
Pitch 'n' Mix have to be one of our favourite teams to play. We set up a friendly with them first thing of the season, because we know that no matter which way the game goes, it'll be great fun. We also love to play the Dogs Trust - particularly because of their amazing hats with ears on.
Best catch/longest hit?
Too many to mention. Our outfield will be the stuff of folk songs and legend.
Who's been your MVP this year?
Ben 'Hedge Catch Guy' Addy and 'Mean' Roisin both have been awarded two MVPs each this year, Izzy Stannett 'Baratheon' has the most appearances with 31 innings, while 'Sharface' Sharland has a perfect batting average of 1.000.
But all round MVP has to be first baseman Toby 'TJ' Jones with a batting average of 0.867, thirteen put outs, and a swing that just won't quit.
Lastly, congrats on making the finals for the first time (in only the team's third year!) - how have you done it?
As you can see from the above answer, there's two secrets to the Slug Success - nicknames, and stats. Each player is given a nickname that will stick with them - whether they like it or not - both on and off season.
We (by which I mean 'I') also love collecting detailed records from each game and inputting them into an overly complicated spreadsheet to generate wealth of stats. This provides no tactical advantage, but it does create one hell of a competitive spirit in the office.
​
---
​
Big thanks from us and best of luck to both teams for Thursday!
Meanwhile don't forget you can follow the build-up over on the league's Twitter feed, and watch this space for more from the finalists tomorrow...
Team Harris Hill
​

Opportunity for all

Find out how we're working to deliver more diverse, equitable and inclusive recruitment…

Recruiting a charity CEO?

Our executive recruitment specialists have an exceptional record of successful CEO, chair, trustee and…

Charity sector salaries

Check out the market rate for your charity role in the latest Harris Hill Salary Survey.