With much of the world in lockdown to slow the spread of coronavirus, working from home is the new normal for many. Our guest blogger and freelance writer Nicola Greenbrook offers suggestions on how to work productively, interact socially and look after our physical and mental health.

How to work well from home
We are living in exceptional times. The virus that emerged in the Chinese city of Wuhan has caused a global COVID-19 pandemic. At the time of writing, the UK is in lockdown, the shutters have come down on all non-essential shops, schools and nurseries are closed, and many charities are in crisis.
Government guidanceadvises people to work from home where possible, travelling only when it is essential. But for those unaccustomed, or averse, to homeworking, it can take a while to adjust. Throw into the mix that our partners/flatmates/children are our new colleagues, how can we work productively and efficiently from our homes - and keep our minds and bodies healthy?
___________________
Create a designated workspace
The spread of coronavirus has been rapid; one day you were at work, the next creating an 'office' in your flat amongst the laundry and hunting under a pile of magazines for a pen.
Before you do anything else, prioritise setting up a clear and defined workplace, separate from your home life where possible. If this is the kitchen table for the time being, ensure it's clear, free of coffee cups and has easy access to power. HSE's Display Screen Equipment (DSE) workstation checklist offers clear guidance on areas such as chairs, screens and lighting.
Adding a personal touch to your workspace might help with the adjustment to homeworking (best to avoid dedicating an entire working day to #workspacestyling though). Kim Watson, comms freelancer and co-founder of holistic therapies business The House of Palms finds that it increases her productivity: 'I have a proper workspace, a desk with plants, pictures, candles and natural light etc. All things that make me feel happy and wanting to work - that helps!'



Establish a routine and set boundaries
I'm an HR Specialist for an IP law firm in the City for three days a week and a freelance writer at home for one day and weekends (plus a Mum in between). This provides clear boundaries and compartmentalises my working week.
However, the lines are currently blurred; each part is now worked from home. It's an unprecedented situation for most of us; there's no commute to act as a physical divide and we've literally brought our work into our homes. So what can we do to restore some order?
Creating a simple plan for the week ahead can help stay on track; try scheduling activities against set times and get to know when you're 'peak you'. If, generally, you're less dynamic in the afternoon or susceptible to energy slumps, consider doing less creative work then.
If working alongside a partner or flatmate/s AND children, and without a separate room to work from, at least delineate a space that is solely yours. Over breakfast each day, consider holding a team meeting with your 'new colleagues'; discuss and agree the hours you'll each work (especially if caring for/homeschooling children as well) and how you like to work (loud music vs complete silence etc). Then be prepared to compromise and be flexible - we're all in this together!
___________________
Watch the clock
It's tempting to work all hours just because we can. Stick to your regular office hours where possible and commit to meetings in your diary rather than pushing them back.Establish a routine; stop for lunch and utilise morning and afternoon breaks to do a quick house chore or grab a drink - and step away from the screen.
Work steadily, stay focused and STOP at a set time - then switch off. It's unlikely you'd run back to the office at 11pm after an evening out, so there's no need to head back to your laptop at home.
​

Stop looking for distractions
There's something about being in your own home that feels more comfortable, don't you think? Sure, you could squeeze in some pre-work Netflix over a bowl of cereal, but can you stop at one episode?
What about chores? Are you finding it hard to ignore the messy kitchen cupboard /peeling paint/huge pile of stuff to sort out? Yes? You could be procrastinating; save the decluttering for the weekend.
Mirror your homeworking day with your office one. If a relative or friend wants a chat in the middle of the day (rather than it being a genuine concern or emergency), politely reschedule for lunchtime or post-work.
It's important to digest public health information, but avoid getting bogged down in multiple sources, too many WhatsApps or unreliable social media posts. Don't let a quick peek at your phone become a Twitter marathon.
___________________


Be healthy in mind and body
Working from home can be challenging and isolating, and you might be feeling a certain level of anxiety and distress. Explore some coping mechanisms that could alleviate feelings of uncertainty.
For example, limiting social media (and visiting positive accounts only like Upworthy), using meditation and relaxation apps, reading a book or sitting in the garden to restore a sense of calm and wellbeing. Mental health charity Mind offers some brilliant advice on coronavirus and your wellbeing.
Try exercising in your former commuting time (for your mandated, one form of exercise a day) to start or end the day in the right way. Runner's World has some good tips for staying active during social distancing and the Guardian suggests the ten best online (and free) home workouts.
Stay hydrated and eat well, avoiding the temptation to fall into a pattern of idle snacking and ransacking the crisps cupboard at 10.00am. NHS factsheet 'Water, drinks and your health' provides some helpful reminders on this.
Finally, ensure you follow sanitation and good hygiene practice to reduce the spread of COVID-19 at home too. Wash your hands and clean your keyboard, phone and other equipment regularly. Here's a reminder of the advice on this, via the CIPD: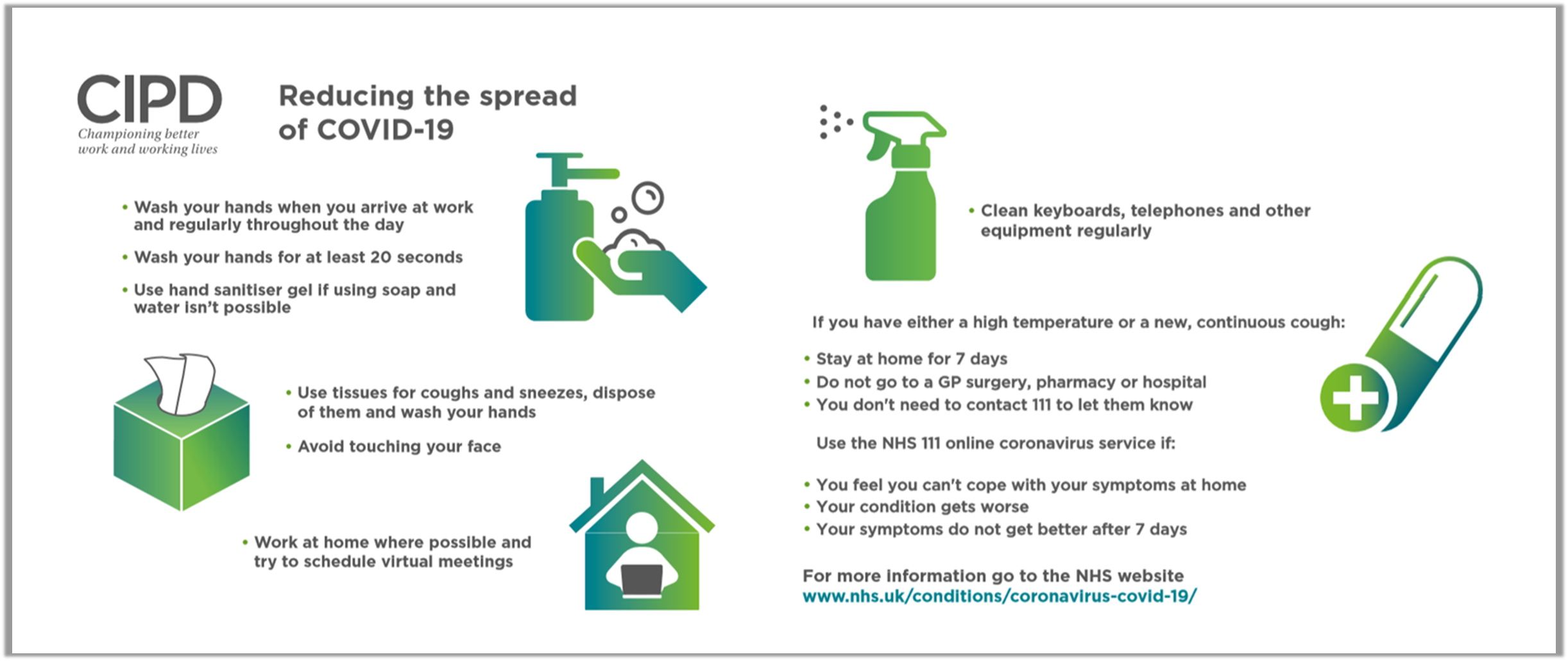 ​
Stay in conversation
Maintaining some form of human connection while homeworking is essential, and emotional support is a critical part of our physical and mental wellbeing.
If your workload allows, contribute to team chats or group emails when you can so you don't drop off the radar. Consider a virtual coffee break with your team and ask what they're working on, come up with ways to support each other and share what's on your list (or your mind, if you feel comfortable).
Jot Form offers some great ideas for online business tools and ways to communicate, such as using a video conferencing tool like Zoom for meetings with multiple attendees, hosting courses, and webinars.
​


And finally…
• Get dressed- It's tempting to jump straight into it and conference call in a work top with pyjama bottoms, but before you know it, it's 3pm. Get showered, first.
• Support local businesses - Consider signing up for an online yoga class with a local teacher, order takeout as a lunchtime treat from a café and buy your basic necessities from a local shop.
• Learn how to homework - LinkedIn Learning's remote working course can be done in small chunks and includes insight from entrepreneur Arianna Huffington.
• Reach out-If you're struggling, don't hesitate to speak to your HR team for support or access any employee assistance programmes available.
___________________

These are unsettling and worrying times, and a huge period of change for the UK's workforce. You may be feeling out of control right now, but try to focus on the things you can control (washing your hands, taking exercise and breaks, eating well and drinking fluids) rather than what you can't.
Take it day by day; get to know what works for you to get the best out of homeworking and stay in good physical and mental health.
Stay safe and well - and indoors.
Nicola
Contact Nicola, check out her website, or follow her on Twitter.
​

The coronavirus pandemic is a fast-moving and developing situation and official advice should always be taken.
You'll find the most up-to-date information via the UK Government, NHS or World Health Organisation sites.
​
Opportunity for all

Find out how we're working to deliver more diverse, equitable and inclusive recruitment…

Recruiting a charity CEO?

Our executive recruitment specialists have an exceptional record of successful CEO, chair, trustee and…

Charity sector salaries

Check out the market rate for your charity role in the latest Harris Hill Salary Survey.