Not your actual French capital, to be clear, but the (rather colourfully) historic street of Paris Garden on the South Bank, where we've recently relocated from our former home in Vauxhall.
You'll find us on the 4th floor at 1-2 Paris Garden, London SE1 8ND.
​
---
​
​Why the move?
Like most organisations who just needed the absence of all other alternatives to finally embrace flexible working, we've been working from home since the early part of the pandemic.
And having taken to it like the proverbial ducks to water (who also benefit immeasurably from not doing battle with South West Trains) we decided to make flexibility a permanent feature, enabling people to work as they work best, be that in the office, at home, or in most cases, a bit of both.
As a result, we joined the long list of companies who No Longer Need All That Office Space, but as a people business, we don't underestimate the value of in-person, face to face communication either. Sometimes there's simply no substitute, so we were determined to make sure it's a conveniently-located option for you, too.
Enter Paris Garden, a street which owes its name to over-optimism in the planning department, and where you'll now find our shiny new modestly-sized office at number one!
​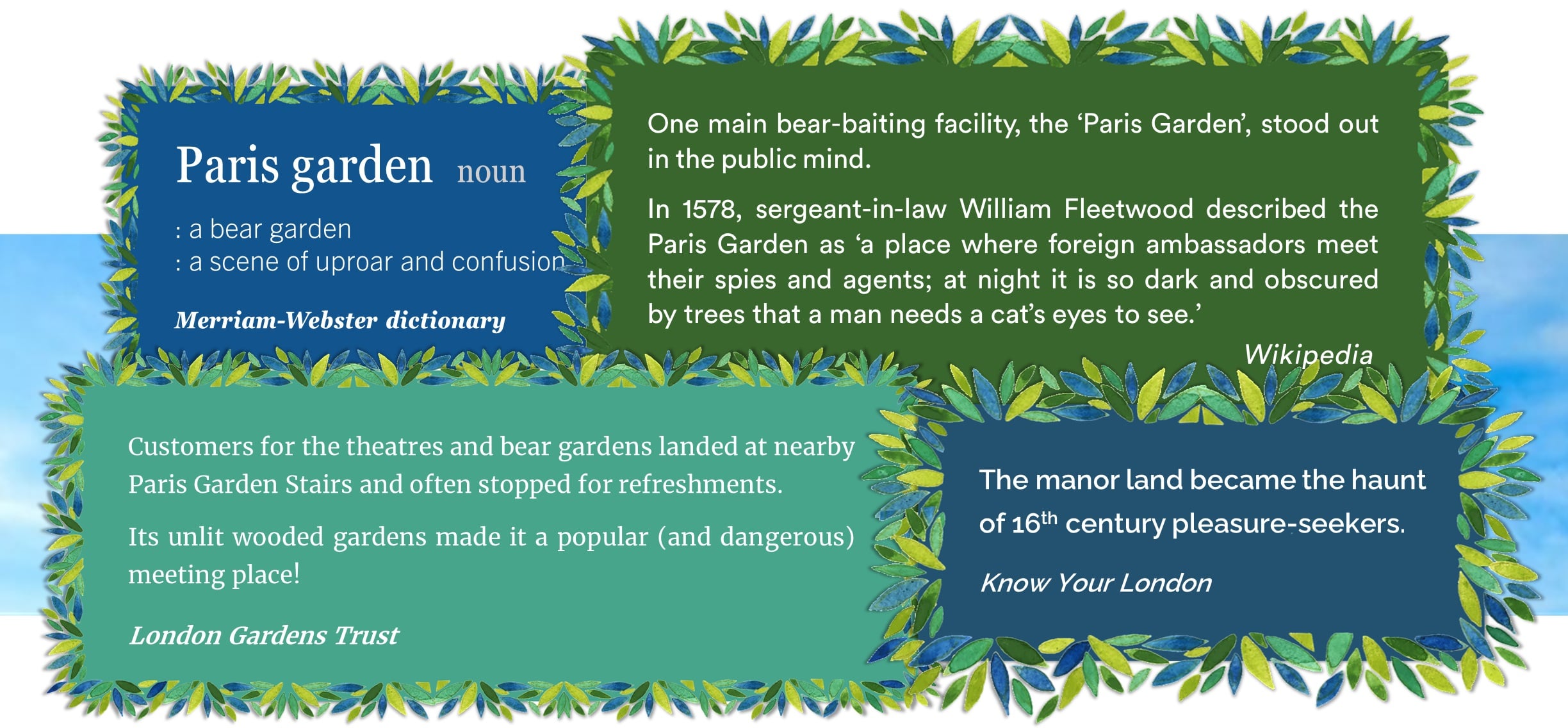 Paris Garden: noted bearpit, spy den, and popular 16th century dogging spot.​
​
Where to find us
Paris Garden - not to be confused with a Paris garden (unlikely) or Paris Hilton, the luxury hotel and minor celebrity - is just a short walk from Southwark station on the Jubilee line, Waterloo, or Blackfriars if you exit the station on the South Bank. Although if you already know how to do that, there's nothing more to be learned and you may be in line for some kind of certificate.
Behold the map:

​
Other transport options include the 381 bus along Stamford Street or the 40 and 63 on Blackfriars Road, and in the surrounding area you'll be delighted to find neighbourhood essentials like the Oxo Tower, a saxophone shop, the Tate Modern, and those flats they built too close to the Tate Modern so everyone peers into their living rooms.
Meanwhile fans of overbearing architecture will enjoy a clear view of the One Blackfriars tower, currently rivalling the City's 'Walkie Talkie' as London's least favourite skyscraper, albeit yet to set fire to anyone's car.
​

L-R: Paris Garden today, One Blackfriars fails at hide-and-seek again, and the Oxo Tower, surprisingly resilient stock cube construction.
​
How to get in touch
By the magic of technology you can reach us on the same telephone numbers wherever we're working, which you'll find in our consultant directory here.
Alternatively, send us an email, call us on 020 7820 7300, check out our latest jobs to see if your dream role is there (or to find out who specialises in your field), and hopefully we'll have an opportunity to welcome you to our new home soon!
Team HH
​

​​​
---
​
More from the Harris Hill Blog
​
| | | |
| --- | --- | --- |
| | | Jobs in the charity sector are bouncing back in a very big way this autumn, so recruiters and charities alike are jostling for a glimpse of your CV. Read more ► |
​
Opportunity for all

Find out how we're working to deliver more diverse, equitable and inclusive recruitment…

Recruiting a charity CEO?

Our executive recruitment specialists have an exceptional record of successful CEO, chair, trustee and…

Charity sector salaries

Check out the market rate for your charity role in the latest Harris Hill Salary Survey.